Brexit vs. SAP GTS | The Last Call – Think about this before November
Services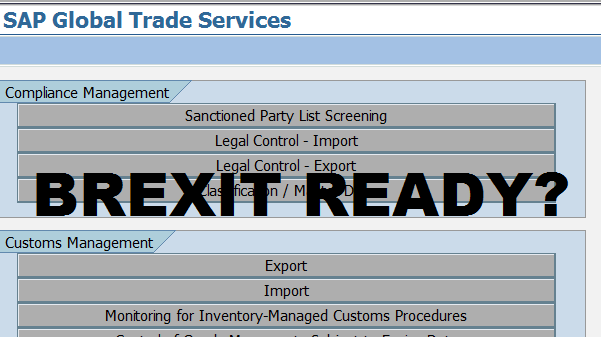 ---
"Fortune favors the prepared mind"
and system.. 🙂
---
Although recent developments about political decisions on shape and timing of Brexit presumably diminished the possibility of no-deal (or hard Brexit) scenario, factually, it only brought further postponing of actual binding decisions being agreed. This, on one hand, gives UK officials more time to prevent a so-feared undirected socio-economic disaster, but on the other hand, it unfortunately extends already long, three-year period of uncertainty for people and businesses on both sides of the la Manche Channel.
On the bright side, for those who are yet to take serious action to prepare their business for future relationship of UK and the rest of the world, the October's article 50 extension is a last call to do so.
As an internationally trading company, it is important to not yet completely rule-out a hard Brexit scenario. Potential extension until end of October does not guarantee this time will suffice (as we watched past weeks the clumsiness of UK in political decision-making) to coin an agreement. All options are unfortunately still on the table, albeit some with ever-diminishing probabilities. Companies must at least make up their mind about hypothetical plans for each possibility.
It should be noted here, that each of the Brexit outcome options, brings risks – however, both negative and positive! New status quo and new playground rules will open opportunities for companies able to flexibly adapt to them. Undeniably, one of the most powerful tools to enable such flexibility in foreign trade affairs is SAP Global Trade Services (GTS) module, covering all major foreign trade topics discussed in relation to Brexit, and allowing for a range of customization tools.
SAP GTS implementation is still a valid option at this stage for many companies, thanks to the October extension. However, individual circumstances and conditions need to be taken into consideration here – SAP GTS offers also separate activation of desired functional parts of the whole module – allowing to focus on most pressing processes and shorten overall implementation period.
For many global companies, SAP GTS was a go-to solution path from the start of the Brexit Saga, and mid to long term projects to implement, extend, or adjust the system are ongoing. It may be a good idea here, to summarize key topics, which every SAP GTS Brexit Project management should bear in mind.
Naturally, a good start would be to take a look at the official SAP Notes (Important SAP Notes – BREXIT) related to Brexit. List of relevant notes issued by SAP to prepare clients for Brexit is continuously expanded.
Many of these notes are no-deal Brexit scenario related – i.e. how not to consider UK as EU member state, etc. – this is probably the most difficult option project-wise for UK companies, below paragraphs also apply in such a case.
Preference Management with No Customs Union scenario – Ongoing customization would be required, dealing with future FTAs, Preferential status – update of current LTVDs and calculation rules, new Customs duties, Certificates of Origin, etc. Open still remains how fast dataproviders will provide their updates.
Intrastat – UK Brexit date would not necessarily also be the day of UK leaving Single Market – Intrastat reporting relevancy period question stands here. Also, Intrastat relevance at the time of goods movement after UK leaving SM to be considered.
Numbering Schemes – Future format of UK Tariff schemes will presumably be based on the 6-digit WTO scheme. Contacting Data providers for alignment and new scheme upload files will be essential.
Embargoes and Sanctioned Party Lists – Possible updates and changes, as UK would manage its own policies, which may vary from EU sanctioned lists.
Customs Management – Well I guess this is the most obvious topic. As far as UK will be out of the EU, all EU transactions (Import/Export), flowing in/out to UK are Imports/Exports as of November. UK companies may already prepare in advance by applying for EORI number.
New business requirements – Accommodating possible new EU and UK regulations, it is absolutely certain, that new requirements will be demanded by business departments. These may come in forms of new reports, enrichment to the current/standard data transfers from ECC systems to GTS, additional document forms for new mandatory filings, and much more.
There are also numerous topics, not directly Foreign Trade related – such as Tax, Legal/Contracting, Payables/Receivables, and very importantly Logistics, Warehouse Management, etc.
To conclude – It is, diplomatically speaking, truly unfortunate, that these complex topics are yet to be rightfully discussed, due to the ongoing prolongation of uncertainty, related to postponed political decisions, as stated at the start of this text. Nevertheless, as also mentioned above, there is still chance to use this time and prepare companies for required flexibility, update and upgrade processes and system infrastructure, to be ready for many opportunities which will arise from shape of future international partnerships. I wish all of you the best of luck in achieving of this potential.